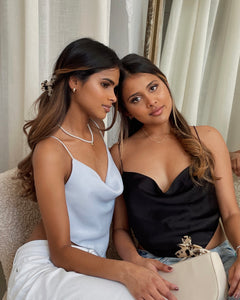 Meet The Creators
First Love was founded by two South Asian  sisters from Ontario named Navina and Sharuka. What started as a passion project in 2020 with a  sewing machine as a creative outlet, eventually grew into a love for curating personalized hair accessories. With a combined diverse background in Marketing and Public Health, First Love became a platform where fashion, craftsmanship, and social activism intersect and empower one another. Through First Love's community, Love Club,  luxury haircare is more accessible while leading progressive changes in communities.
Our Why
"Growing up as immigrant children, we couldn't afford luxury products. We were constantly told that only those with money could afford the comforts of life. We wanted to change that. With First Love, we advocate that wellness and self-love are not luxuries- they are priorities. To build a strong foundation and sense of self-worth and value, is one of the greatest investments you can make for yourself, your future, and for those around you"
- Navina & Sharuka, 2022
Why Haircare?
Haircare is deeply rooted in the South Asian community as the ultimate symbol of beauty. Both Navina and Sharuka grew up in Canada, and understand the North American standard of luxury. The iconic modern day, trendy, silk scrunchie is the embodiment of both identities into one.